About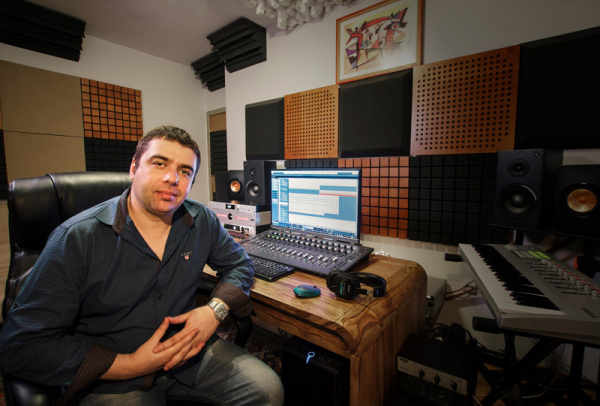 Rosen Stoev a.k.a Rossko is a producer, composer, remixer, DJ and sound engineer. His name is among those of the most creative artists on the Bulgarian scene. He has been a DJ since 1991 and has played in almost every big club in Bulgaria. In 1997 he started producing dance music and soon remixing for the most popular Bulgarian artists, delivering a modern sound and totally different vibe to the original versions of their songs.
In 1998, together with DJ Dian they launched the dance-house project – "Deep Zone Project" and few years later their independent record label. Starting as a "two-dj" underground project, "Deep Zone" becomes the most successful Bulgarian dance-house projects. The two founders of the music project alongside with the other label partners were producing and performing their own music for more than 10 years. Together they have more than 40 singles released, most of them becoming big hits in the country and defining the new sound of the Bulgarian electronic music, numerous gigs in Ukraine, Portugal, England, Malta and Serbia. The group have also won the Bulgarian Eurovision Song Contest 2008 with their single "DJ, Take Me Away" which was released worldwide. Same year later on, each of the members of Deep Zone Project starts their own individual projects within the group.
In 2008 Danny Tenaglia officially and internationally acknowledged his remixing skills when Rossko took part in the "Music is the answer" remix contest, organized in association with "Twisted Records" and "Beatport". Rossko won the second place in a competition with 624 producers from all over the world.
Rossko's personal signature, in terms of modern sound design, is expressed at its best precisely in Deep Zone Project's work. He co-produces and co-writes, but also is the sound, mixing and mastering engineer for the whole music production of the record label since the launch until 2009 when he withdrew his share from the record label, which he co-launched, as well as from the music project.
In 2010-2012 he signed few times with the American music label – "KULT Recods" when Kult commissioned remixes from the most amazing producer/remixers from all over the globe to work on their new releases: "Made by Monkeys – I Try", "CyberSutra feat. Marcia Juell – Fly Away" (Radio Danz's "pick of the week"), "Vision X feat. Angie Norris – I.O.U", "K Flay – Little Bit Crazy", "Vani feat. Eira & Abrante – Lucia". Rossko is on KULT also with his successful collaboration on the release co-produced by Made by Monkeys "Made by Monkeys vs. Rossko feat. Lisa Gary – Euphoria".
In 2012 Bulgaria's top producer was back on Eurovision as a co-author, mixing, mastering and sound engineer of the Bulgarian Eurovision 2012 Winner song "Sofi Marinova – Love Unlimited".
Currently the DJ is the famous remixer in Bulgaria, giving his own unique musical style to every track and having the power to transform every record to a hot mix.